Any horseman who has had the opportunity to enjoy the backcountry a-horseback will appreciate an organization dedicated to insuring that the public lands of America's backcountry wilderness remain open to recreational stock use. But Back Country Horsemen of America is much more than a vehicle for political and legislative action. It is, additionally, an organization committed to both service and education, with a philosophy of "gentle use" of the land, and a zest for enjoyment and appreciation of our nation's natural resources.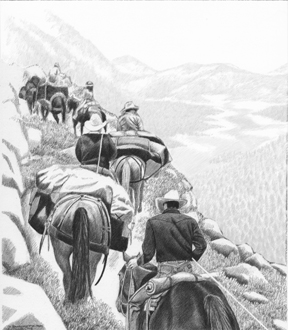 Education is fundamental to Back Country Horsemen (BCH), and fundamental to BCH education is a philosophy referred to as "leave no trace." BCH encourages everyone to become a "gentle user," and they sponsor seminars and classes, and provide written materials that foster skills, practices, and ethics for "gentle use" of the land and forage, gentle care of stock, conservation practices, and minimum impact camping practices. Members also have opportunities to learn about veterinary practices for saddle and pack stock in the backcountry, safe methods for hitching and tying, and innovative techniques for dumping and trash management. Booklets and publications on all of these subjects, and many more, are published through the organization.
Back Country Horsemen had its beginnings back in 1981, when a group of private and commercial packers met to form the "High Sierra Stock Users Association," to represent horsemen in their dealings with public lands administrators. Five years, later, the HSSUA joined with Montana, Idaho, and Washington to form the Back Country Horsemen of America.
While the national organization's task is to coordinate activities, the heart of Back Country Horsemen's activity is at the state and local level. There are currently BCH organizations in 12 western states. Back Country Horsemen of California (BCHC), formerly the High Sierra Stock Users Association, has nearly 4,000 members, and 27 local units.
"Work projects" are an important part of Back Country Horsemen activities. Working with public agencies to repair and maintain trails helps to insure that public lands remain open to recreational stock use. For example, in California, the Sequoia Unit of BCHC has assumed the responsibility of maintaining the drift fences and gates in Little Whitney Meadow of the Inyo National forest. In addition, projects have been conducted at trailheads, campsites and fences in the Kern River Canyon. There are numerous similar "work projects" going on throughout the western states. Local and state chapters of Back Country Horsemen also sponsor rides, cook-outs, seminars, classes, and some have an annual "Rendezvous" that is open to the public, with exhibition halls, contests, seminars and classes, dancing, and wonderful food. In other word, along with service and education, Back Country Horsemen members know how to have fun!
Back Country Horsemen of America (www.backcountryhorse.com) offers membership where there are no state or local chapters. State chapters of Washington, Oregon, Utah, New Mexico, Montana, Colorado, Idaho and California all have web sites with information on the various local chapters throughout these states. Simply do a google search with the words, "back country horsemen" and the state name. You'll find a wealth of information to enhance your enjoyment and appreciation of the backcountry!