NOTE: To search for Oregon ranches for sale, farms, land, horse property, vineyards, rural homes, and rural real estate in Oregon. Click here, and then select Oregon in the states drop-down menu.
[Sellers and brokers, to put your listings online visit www.RanchAndCountry.com
and Sign Up to Put Listings Online !]
There are so many reasons to search for Oregon land for sale. Oregon, one of only 5 states that has no sales tax, has a highly diverse agricultural industry. Oregon ranches and farms produce more than 250 commodities, from wheat and cattle to grasses and grass seed, a variety of berries including grapes, many types of vegetables, and of course, Christmas trees. Oregon ranches and farms tend to use conservation-minded ranching practices, and a fair share are engaged in sustainable agrculture.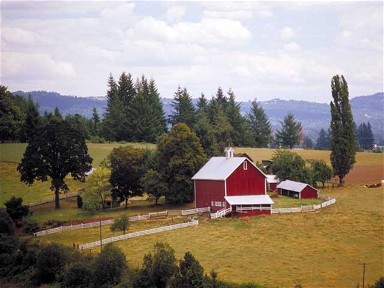 Searchers will find that many of Oregon ranches for sale are family owned operations. Cattle ranches often acquire additional grazing leases of BLM lands ( "Bureau of Land Management") since a good portion of Oregon land is owned by the federal government and managed by this department.
Many of Oregon's wild horses have found protection on certain Oregon ranches that have devoted their efforts to becoming wild horse sanctuaries. "Kiger Mustang" which is now actually an established breed, was originally discovered in a remote area of Beatty's Butte in southeast Oregon, and such herds can now be found throughout Oregon. A Kiger Mustang was used as the model for the animated feature film, Spirit - Stallion of the Cimarron from Dream Works Pictures.
Many offerings of Oregon ranches for sale have horse breeding and training as their focus. The equestrian community in Oregon is quite large and diverse in disciplines and breeds.
Oregon has a great variety in climate, topography, and agricultural conditions. While many out-of-staters associate Oregon with rain, there are areas in eastern Oregon that get no more than 12 inches of rain each year.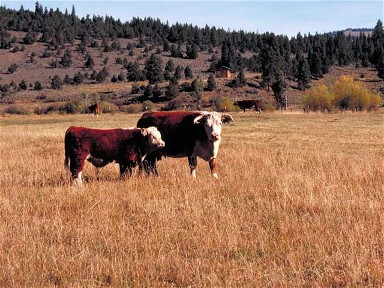 Oregon ranches in southeastern Oregon and central Oregon produce primarily hay and cattle. Central Oregon grows a wide range of crops, including vegetalble seeds and grains. Northeastern Oregon also produces wheat and livestock as well as various fruits, such as cherries, apples, and pears. Wine appellations in Oregon can be found in western and northern Oregon.
The demand for Oregon ranches, land, farms and horse property has soared during the last 10 years. The market has been fueled by pricey California, Oregon's neighbor to the south, from which ranchers, farmers, horse breeders and trainers have purchased Oregon ranches and horse property in order to increase the size of their acreage holding and thereby expand and grow their business.
A land of great beauty and great diversity, Oregon offers many opportunities for those who follow the trail that leads them there! Search for Oregon ranches for sale, horse property and other rural Oregon properties and you won't be disappointed!